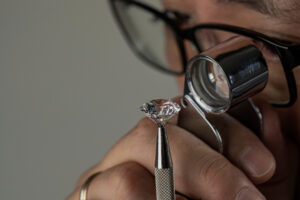 A common misunderstanding is that cubic zirconia and lab-grown diamonds are the same stone. Although they may appear identical to the untrained eye, their chemical and physical properties are vastly different. In recent years, both of these stones have gained enormous popularity among people all over the world. One of the reasons for this is that both of these stones are significantly less expensive than a natural diamond.
In recent times, people who are looking for diamond engagement rings choose lab-grown diamonds or cubic zirconia, instead of natural diamonds. Let's take a look at how lab-grown diamonds differ from cubic zirconia.
Difference Between Composition
Just like mined diamonds, lab-grown diamonds are made entirely of carbon. Even their hardness and refractive index are the same. Cubic zirconia is also created synthetically and has a completely different crystal structure and chemical composition. Cubic zirconia is the cubic crystalline form of zirconium dioxide and it has no carbon, unlike lab-grown diamonds. Although CZ is not a diamond, it is a very popular stone that is used as a diamond substitute due to its low cost.
Difference In Color, Cut, And Clarity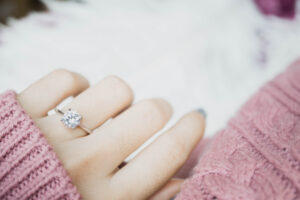 A lab-grown diamond's color is graded on a scale of D to Z, with D denoting a colorless stone and Z denoting a yellow or brown hue. Unlike most synthetic diamonds, which range in color from F to J, cubic zirconia is colorless and exhibits colorful flashes of light comparable to moissanite.
Although lab-grown diamonds are graded on the GIA's FL to I3 clarity scale, metal inclusions such as iron, nickel, and cobalt are common in HPHT synthetic diamonds, while graphite or other mineral inclusions are common in CVD diamonds. Cubic zirconia is typically internally flawless, making it very appealing to buyers all over the world. However, because no diamond is perfect, this is one of the most important ways to distinguish CZ from diamond.
There is no distinction between lab-grown and natural diamonds in terms of the quality of the cut. The cut quality of a diamond is determined by the accuracy of angles, length-to-width ratios, and symmetry, and is assessed on a scale of Good, Very Good, Excellent, Fair, and Poor. The A rating system is used to evaluate the cut quality of cubic zirconia, and it only applies to these stones. Machine-cut CZ is graded from A to AAAAA or 5A, with 1A being the lowest quality and 5A being the highest.