Beautiful diamond engagement rings featuring composite diamonds are a new trend that is gaining traction among the younger demographic. The stunning appearance and the pocket-friendly price range of composite diamond jewelry are the major reasons for their growing popularity. Let us get into some more details about composite diamonds.
What Are Composite Diamonds?
When clusters of small diamonds are arranged in such a way that they give the illusion of one large diamond, they are termed composite diamonds. Small diamonds are arranged in such a way that they would either appear as one large stone or are placed in a setting that would enhance their sparkle and beauty. Smaller diamonds are sometimes glued together, forming doublets or triplets, and they are then set in the exact same way as a single large stone would be set.
The Pros And Cons Of Cluster Settings
The major attraction of composite diamonds is their economic viability. There will be a cluster diamond design that can fit the taste and budget of all kinds of diamond lovers. The lower price doesn't affect the aesthetic appeal or sparkle of the stones, since only good quality stones are used to form composite diamonds. In addition, the buyers are presented with the unique opportunity to pick and choose a stand out design, or go a step further and design one of their own, since the composite diamond setting offers unlimited design possibilities.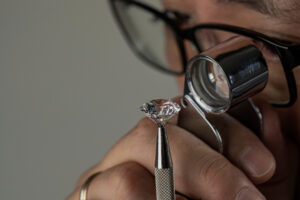 Composite diamonds take a huge hit when it comes to repair costs. The loss of one stone from the composite may be hard to fix since it might be difficult or impossible to find a matching stone that can be studded in the same space in the setting. Such a repair process often ends up costing a lot, almost negating the savings on the original purchase price of that piece of jewelry. The resale value of composite diamonds is nowhere near that of actual big diamonds. When you are going for composite diamond jewelry, you ought to be aware of the fact that the piece can only be added to your collection of unique diamond jewelry pieces and never considered as an investment that can fetch you a good price in the future.
Composite diamonds offer the same kind of shine and sparkle as that of large diamonds, set in aesthetically pleasing designs that come at an affordable price range. Composite diamond jewelry is the best option for those who want to get beautiful diamond jewelry with pocket-friendly price tags.