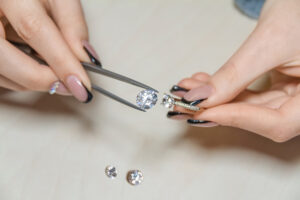 A lot of different metals are used for making rings which include silver, gold, platinum, etc. Different metals have different properties and the cost of the metal depends upon this. People often research a lot about selecting the type and style of the diamond in their engagement ring. Keep in mind that the metal ring that is holding the diamond is also important. This is why people incorporate precious metals like platinum or gold into their engagement ring designs. The gold varieties that can be used in a diamond ring are discussed below.
White Gold
White gold is made by combining gold with white metals like nickel or palladium. Platinum can also be used for combining with gold to make white gold. White gold is available in different purity grades and the purity grade depends upon the impurities in the metal. White gold is relatively cheaper than platinum, but people with some metal sensitivity cannot use white gold. The disadvantage of white gold is that it tends to get a yellow shade over time.
Yellow Gold
As we all know, the color of gold is yellow. Higher carat graded gold has a darker yellow color. Gold may be mixed with copper, silver, or other metals for improving its hardness. Yellow gold and white gold don't have much difference in their price. When compared with platinum, yellow gold is cheaper.
Rose Gold
Rose gold has a light pinkish shade and this pink color is due to the presence of copper in the alloy. Rose gold is also shiny like other varieties of gold and offers a vintage-inspired look to your ring. Nickel is not used in making rose gold, so you may not worry about nickel allergies. When comparing the cost, rose gold is less expensive than other varieties of gold. This is because copper is a cheaper metal.
Qualities Of Platinum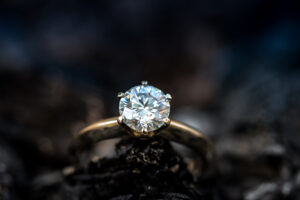 Platinum is one of the most valued metals on earth and this metal has a high melting point and high density. It is about 30 times more difficult to find when compared to gold.
Platinum has a reflective appearance and is highly durable. It is hypoallergenic, which means that it doesn't cause any type of allergies to the skin. Also, platinum offers a magnificent overall appearance to a diamond ring. These are the qualities that attract most people to choose platinum over other metals for their engagement ring.