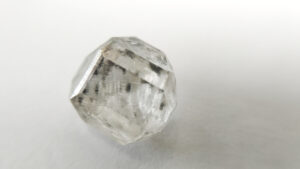 The word pave comes from the French word paved, as in paving the ring with small diamonds. This is due to the fact that the outer perimeter of the ring setting is paved with numerous tiny diamonds or other gemstones put close together. A pave setting can consist of a single row of little diamonds or many rows. Pave can transform the appearance of even the most basic ring design by adding glitter and elegance. Pave can be incorporated into almost any ring design because it's more of a design feature than a specific style of setting. As a result, it's a popular option for engagement rings.
Tiny metal beads or small prongs hold the lab-grown diamonds in place in a pave setting. The diamonds are initially put in small holes carved into the setting, which adds further security and keeps the stones in position. The beads are then wrapped around the diamond to secure it. While the stones are normally secure, there is a chance that one may fall out or become loose, especially if struck with a forceful impact.
Are Pave Set Diamond Rings Expensive?
Small diamonds, as you are aware, are plentiful, require little faceting, and are thus relatively inexpensive. On the basis of the cost of melee diamonds alone, you'd imagine that a pave setting wouldn't be too expensive.
With pave settings, though, this isn't always the case. A pave setting takes more time, work, and materials to make than other ring settings. Almost all pave rings are handmade, with the designer placing each small diamond one by one into position. Furthermore, the diamonds must be chosen with care to maintain consistency and uniformity.
Benefits Of Pave Setting
The pave setting highlights and draws emphasis to the main stone. The attention is drawn to the center stone when the ring setting has pave on the shanks leading to it. Pick a good narrow ring band for your pave setting to highlight the main stone's size even more.
Pave is a versatile choice that may be added to a variety of engagement and wedding ring settings. This is due to the fact that pave isn't a setting in and of itself, but rather a form of ornamentation that may be added to virtually any ring style.
Pave gives your ring a lot of brilliance, making it look beautiful and sumptuous. The difference between a pave band and a plain band is enormous, giving the overall ring design a glistening, fashionable impression.