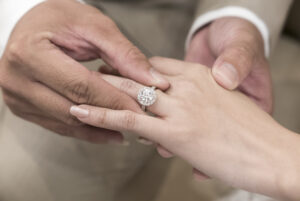 The solitaire ring setting is created to give complete focus to the center stone. This ring setting usually features a bigger diamond set on a simple band. However, if you want to add some additional features to your plain solitaire rings, then there is a wide array of options available for you. The following are some of the best options you can consider for your engagement rings if you want a distinct appeal for your solitaire ring.
Types Of Solitaire Ring Setting
There are different types of solitaire ring settings available for you apart from the plain and simple ones that you might be already familiar with. Some of the stunning varieties of solitaire rings are listed below:
Prong Setting
This is the simplest version of a solitaire ring. It usually comes with a simple band with a center diamond. The diamond will be secured to the band using prongs, which are claw-like structures. This setting can enhance the brilliance, sparkle, and visibility of the stone, as the metal covering your diamond will be minimal.
But the prongs might get loose easily thereby greatly increasing the risk of losing your costly diamonds. So if you have a prong-set ring, make sure to inspect it often to find out loose prongs.
Additionally, this setting demands bigger diamonds. So if you prefer bigger diamonds for cheaper rates, then it is better to go for lab grown diamonds.
Bezel Setting
This particular ring setting offers a sleek and modern look for the bride.  It comes with metal covering the stone using a thin strip. This setting is the favorite of people who want to give maximum protection for their expensive diamonds, as the metal strip covering the stone can prevent it from becoming loose.
Tension Setting
This is a stunning and unique variety of solitaire settings that can be perfect for people who want a distinct look for their engagement rings. The tension setting gives the illusion that your diamond is suspended between the two ends of the metal band. It can offer a unique appeal for your ring with its spectacular design.
Pave Or Channel Setting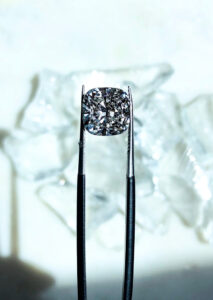 Both of these settings can be a stunning alternative to solitaire rings. They come with diamonds set on the band of the ring. The pave setting uses prongs for holding the small stones on the band, whereas, the channel setting uses a channel-like structure to hold the stones. These options can greatly enhance the appeal of your simple solitaire ring.
All these options can create a wonderful alternative for a solitaire setting. If you want to make your solitaire rings more attractive and special, make sure to consider them.