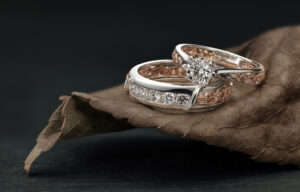 The design of radiant-cut diamonds dates back to the 1980s. The radiant cut was designed by Henry Grossbard in 1977. He tried to design a diamond combining the best features of the emerald cut diamond and the round brilliant cut diamond and as a result, we got the magnificent radiant-cut diamond. There are 70 highly precise facets in a radiant-cut diamond and this contributes to its fine brilliance and fire. Radiant cuts can be made from both natural and lab-grown diamonds. When comparing similar quality diamonds, only a round brilliant cut diamond has more brilliance than a radiant-cut diamond. All these impressive features of a radiant-cut diamond make it a brilliant choice for your engagement ring.
The shape of a radiant-cut diamond can be a square or a rectangle when looked at from the top. The corners of the diamond are rounded and this makes it very durable against chipping and breaking. If you are looking for a diamond with excellent brilliance and durability, radiant-cut diamonds can be perfect for you.
Similar to all other cuts, radiant-cut also has its advantages and disadvantages. Let us now discuss the advantages of radiant-cut diamonds.
Magnificent Sparkle, Brilliance, And Fire
As we already mentioned, radiant-cut diamonds are superior to all other diamond cuts except round brilliant cuts in terms of fire, sparkle, and brilliance. The major reason for its brilliance and fire is the precisely cut facets. They are very efficient at reflecting white light.
Radiant-Cut Looks Larger
If you compare a round brilliant cut diamond and a radiant-cut diamond of the same carat weight, you will feel that the radiant-cut diamond is larger. This illusion is mainly due to the long diagonal measurement of the radiant-cut diamond. So if you want a diamond that feels larger, a radiant-cut diamond can be a good option.
Excellent Durability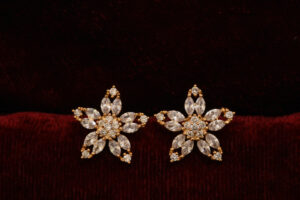 Square cut diamonds are often very susceptible to chipping due to their sharp corners. But radiant-cut diamonds are very durable because they have beveled corners. Even if your fiancé has an active lifestyle, you don't have to worry about damaging your radiant-cut diamond engagement ring.
You may know that the cut quality of a diamond is a very important parameter for its appearance. A diamond with a poor cut will look dull as it cannot reflect light efficiently. The major disadvantage of a radiant-cut diamond is that the GIA doesn't grade its cut quality. Before you go for buying a radiant-cut diamond, research how to select good quality radiant-cut diamond, or else you may end up buying a poor-quality diamond.