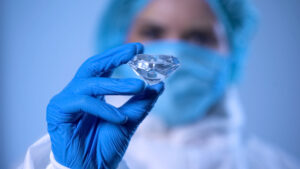 Trillion-cut diamonds are a beautiful and unique choice for engagement rings. They are commonly used as accent stones to set around the center diamond or on the band, however, they can also be used as the main stone of your ring. If you are considering this stone for your engagement ring, then we list some of the important things you want to know about them.
What Are Trillion-Cut Diamonds?
Trillion-cut diamonds are diamonds in a triangular shape. Their corners can be either rounded or pointed. Trillion diamonds with pointed corners can be more prone to chipping, but they give a daring look to the wearer.
The following are some of the facts that you want to know about trillion-cut diamonds:
Trillion-Cut Diamonds Are Big
A trillion diamond cut can look bigger than their round counterparts, as this stone is cut shallow. Therefore, this particular diamond shape can be suitable for people who want a bigger diamond for their engagement rings.
Trillion-Cut Diamonds Are Less Costly
The price of a trillion-cut diamond can be extremely lower than round diamonds. Hence, they can be a very affordable option for people. Additionally, getting trillion cut lab grown diamonds can further reduce the price of their engagement rings by a significant sum.
Trillion-Cut Diamonds Are Less Brilliant
As mentioned above, this particular diamond cut is very shallow. Hence, the stones cut in this way won't have enough depth to reflect light. So the brilliance and sparkle of trillion-cut diamonds can be less than many other diamond shapes.
Trillion-Cut Diamonds Can Be More Prone To Chipping
As most trillion-cut diamonds come with pointed corners, you have to be careful with these stones, as they can be vulnerable to chipping. If a sharp blow is applied to the pointed corners of your trillion diamonds, they can easily chip or break. Therefore, handle these diamonds sparingly.
Trillion-Cut Diamonds Are Difficult To Set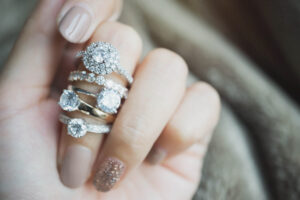 Because of their particular shape, trillion diamonds are difficult to set in a mounting when compared to other standard diamond shapes. As they are prone to chipping easily, the jeweler should be very careful when mounting them on a piece of jewelry.
Also, trillion diamonds should be mounted in a protective setting that is specifically designed for them to prevent their chipping.
You Have To Be Careful With The Prongs
When choosing a setting for your trillion-cut diamond, make sure that it protects the corners of the stone to prevent direct blows. The V-prong setting can be a great choice for this stone, as it can offer better protection for its pointed corners.
Trillion diamonds have several drawbacks. But if you are looking for a unique diamond shape with a bigger appearance and lower price, then a trillion diamond can be a wonderful choice for you.