A promise ring is a sort of jewelry that represents a couple's special and particular love and devotion.  Promise rings are similar to engagement rings in that they are given before a marital commitment is made. These rings can imply the love between the couple or may represent a prospective engagement.
The significance of a promise ring can vary from pair to couple, ranging from representing your commitment to each other to implying an impending engagement and marriage. It's preferable if you and your partner agree on what a promise ring means to you personally.
What Are The Characteristics Of Promise Rings?
Promise rings are typically less ornate and less expensive than engagement rings. They frequently employ precious metals like gold and silver. Natural diamonds, lab-grown diamonds, and other costly jewels are commonly used in promise rings. These jewels are usually smaller and less visible than the gems found in an engagement ring and have a more subtle look. Some promise bands have a plain uncanny resemblance to a wedding ring and don't have any distinctive design features.
Cost Of Promise Rings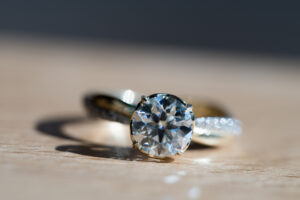 There are no set standards on how much a promise ring can cost, just as there aren't any for diamond engagement rings or other diamond jewelry. Promise rings can cost anything from a few hundred dollars to several thousand dollars for one set with diamonds and/or other stones.
The purer the gold used to build the band and the bigger and higher quality the diamonds it has, the more you'll normally spend for the ring, just like you would with engagement rings. If you want to purchase a promise ring, you can spend as much money as you want. Promise rings are frequently cheaper than engagement rings because they are often bought by youngsters who are not quite ready to commit.
Diamond Promise Rings
You have complete control over the shape of your promise ring. It's ideal to complement the ring to the person who wears it, just like any other piece of jewelry. Diamond rings are great promise rings for lovers since they are classy and elegant. Diamond promise rings are frequently made up of clusters of tiny diamonds that form a lovely floral or starburst shape. Promise rings and other couple rings typically have fewer diamonds than engagement rings, making them less expensive than other diamond jewelry.